You can find more of the SLAM TOP 100 list here: 
100-51 
50-11
No. 10: Larry Bird
No. 9 Tim Duncan
No. 7: Bill Russell
No. 6: Shaquille O'Neal
No. 5: Kobe Bryant
No. 4: Kareem Abdul-Jabbar
No. 3: Magic Johnson
No. 2: LeBron James
No. 1: Michael Jordan
Order your copy of the SLAM TOP 100 issue at our store. 
—
Wilt Chamberlain. His one name says enough. Says it all, actually. Wilt. Before LeBron and Magic and Prince, there was Wilton Norman Chamberlain, the biggest, baddest man on the court—and just about anywhere else. There had been big men in the game before, like George Mikan and Bob Kurland, but when Wilt came to the NBA, even Bill Russell didn't know what to do with him. In 94 regular season games against his Boston rival, Wilt averaged 29.9 ppg and 28.2 rpg.
He overpowered everybody else, too. In 14 NBA seasons, Wilt averaged 30.1 ppg and 22.9 rpg. When he decided to become more of a passer, he averaged 7.8 apg in '66-67 and 8.6 the following season. When Wilt played on a team where he didn't have to score, he set a single season field-goal accuracy rate (72.7 percent) that still stands.
In short, there was nothing Wilt couldn't do on the court. And he was just as formidable off it. In high school, he was a track star. He cut a couple of pop records in the early '60s. He almost signed a contract to box Muhammad Ali. No one was going to tell the 7-1, 275-pound Leviathan that he couldn't do something, mostly because he could probably accomplish it. And, anyway, did you want to be the one to deliver the message?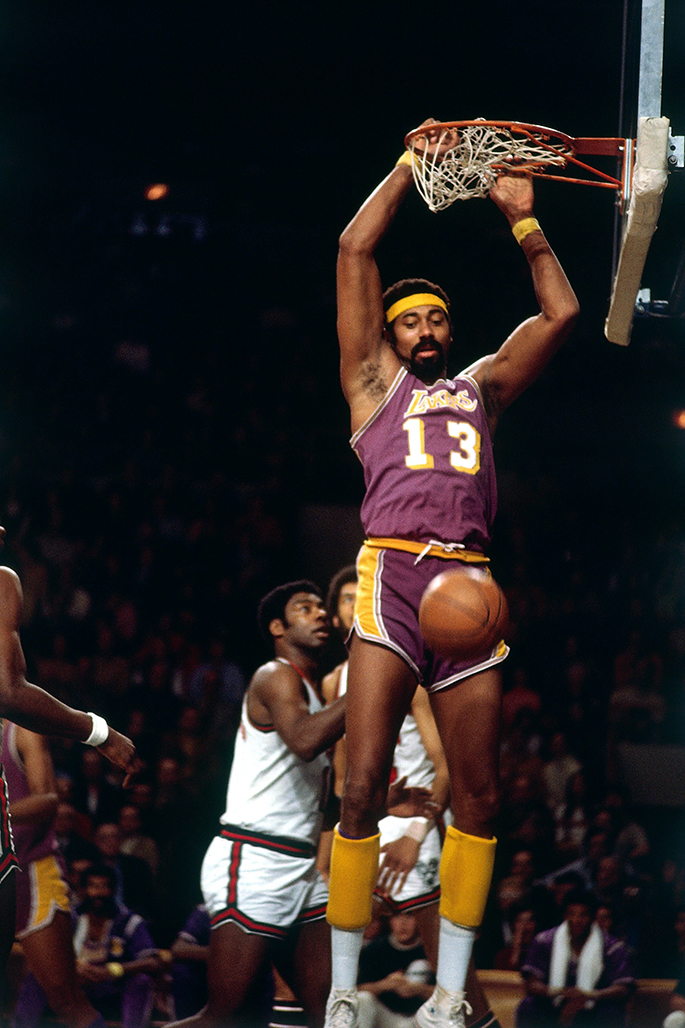 Wilt used to say that "nobody roots for Goliath" and that may be right. So, Wilt became his own biggest fan. He celebrated his stratospheric statistics that were so prodigious they almost didn't seem real. One-hundred points in a game? Preposterous. Unless you were one of the 100,000 people who said they were in Hershey, PA, on March 2, 1962, when Wilt hit triple figures against the Knicks. That season, he averaged 50.4 ppg, a record that will never be broken. Even his faults were giant-sized. Wilt didn't just shoot free throws poorly—he was epically bad from the line, making just 51.1 percent for his career despite trying every possible way of shooting foul shots.
Wilt was supposed to win every game, every championship. When he didn't, they ripped him. He was selfish. Not a winner. But Russell had all of those Hall of Famers, and Red Auerbach directing the show. Sometimes, Wilt just had himself, and that was almost enough. He won two titles. He scored more than anyone else. He even, well, did more of that, too. Wilt was the giant's giant, so everybody expected outsized results every time he stepped onto the court. Such is Goliath's curse.
It is now in vogue to denigrate Wilt's accomplishments. To consider him a selfish giant who couldn't deliver enough titles. It's ludicrous, really. Wilt did what nobody else could. He controlled the game with impunity and rendered those charged with containing him helpless.
After he retired, Wilt's outgoing message on his answering machine was simple: "Speak!" It was delivered in his trademark baritone, and it challenged the caller to be direct and strong and unafraid, all things he was. So, we speak: Wilt was the best.
Photos via Getty Images.