You can find more of the SLAM TOP 100 list here: 
100-51 
50-11
No. 10: Larry Bird
No. 8: Wilt Chamberlain
No. 7: Bill Russell
No. 6: Shaquille O'Neal
No. 5: Kobe Bryant
No. 4: Kareem Abdul-Jabbar
No. 3: Magic Johnson
No. 2: LeBron James
No. 1: Michael Jordan
Order your copy of the SLAM TOP 100 issue at our store. 
—
Gregg Popovich stood under a spotlight at the AT&T Center in San Antonio in December 2016. He looked down and fumbled with a tissue, saying out loud that he promised himself he wouldn't use it. With the mic in his right hand, he looked up and turned to Tim Duncan's sisters.
"This is the most important comment that I can make about Tim Duncan," he said. "That I can honestly say to Mr. and Mrs. Duncan, who have passed, that that man right there is exactly the same person now as he was when he walked in the door."
Pop hugged Timmy after he said that, an emotional moment between two friends with 20 years of memories. They'd won five championships together and delivered 19 consecutive winning seasons to Spurs fans. Pop established himself as the best coach in the NBA over those years, displaying an unmatchable wealth of basketball knowledge. He'd shown that no one in the NBA was better at helping players reach their potential.
But Pop might not have reached his potential without Duncan's help. Even with everything that Pop knew about the game, he and the Spurs weren't successful until David Robinson stepped aside and gave Duncan the ultra-green light. Timmy led the Spurs to the 1999 Championship by averaging 27 points and 14 rebounds in the Finals. After dominating the Knicks that year, he never looked back.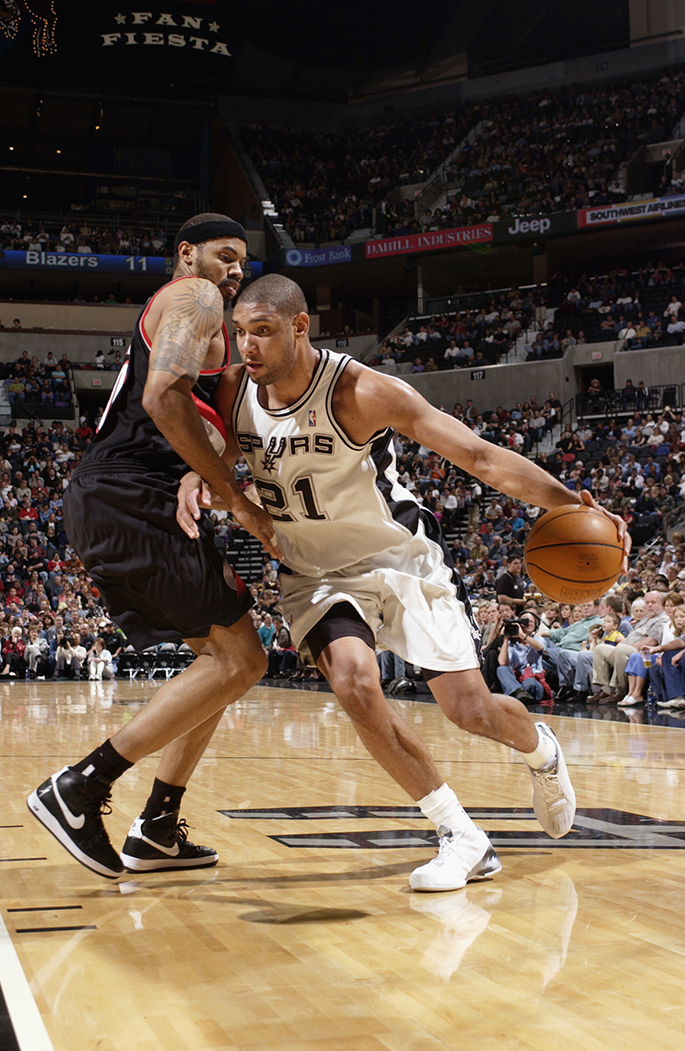 He would finish his career with two MVP awards, three Finals MVP trophies, 15 selections to the All-NBA and All-Defensive Teams and 15 All-Star appearances. He racked up more than 26,000 points, more than 15,000 rebounds and more than 3,000 blocks. Kareem Abdul-Jabbar is the only other player in NBA history with those numbers.
Stats aside, TD established the Spurs as a model franchise. Pop had the Xs and Os covered. It was up to Duncan to take care of the rest. So he went to work, every day for nearly 20 years.
He built a culture of dependable excellence. He broke down film, hit the weight room, got up extra shots, just like he was one of the guys. But he wasn't just one of the guys.
He was the guy.
Duncan was a once-in-a-generation franchise cornerstone, someone the rest of the basketball world looked up to. Teammates in San Antonio got to know his secrets, while players around the world watched how he gave consistent effort, subtly controlling the offense and defense.
He eventually stepped aside offensively, like Robinson did before him, lending a guiding hand to help the Spurs continue their winning ways. There was no drama, no complaining. Duncan was just a normal guy disguised as the best power forward ever. He's timid around strangers, but playful with those he trusts. He has terrible taste in style and amazing taste in cars. He'd rather be with his family than at some exclusive party. That's the way he is now and it's the way he's always been. Just ask Pop.
Photos via Getty Images.
RELATED
SLAM Presents TOP 100 is Out Now!
23,763