Below you'll find 50-11 on the SLAM Top 100. Here's more of the list: 
100-51 
No. 10: Larry Bird
No. 9 Tim Duncan
No. 8: Wilt Chamberlain
No. 7: Bill Russell
No. 6: Shaquille O'Neal
No. 5: Kobe Bryant
No. 4: Kareem Abdul-Jabbar
No. 3: Magic Johnson
No. 2: LeBron James
No. 1: Michael Jordan
All player write-ups by Michael Bradley, Peter Robert Casey, Ryan Jones, Max Resetar, Drew Ruiz, Abe Schwadron, Alex Squadron and Yaron Weitzman.
*Active players
50. Earl Monroe (Hall of Fame, 4x All-Star, 1x NBA Champion)
No player has been handed so many fantastic nicknames (Black Jesus, Earl the Pearl) and for good reason: Monroe was the epitome of playground flash meets NBA substance. His moves, like his favored spin, might seem simple now, but in the late '60s and early '70s, they were groundbreaking.
49. Bill Walton (Hall of Fame, 1x NBA MVP, 2x All-Star, 2x NBA Champion)
He was the center for, and of, what many consider to be the greatest team ever (the '76-77 Blazers) and proof that big scoring numbers aren't the only path to greatness, as Walton never averaged more than 18.9 points a game. If not for chronic injuries, he'd likely be in the top 10.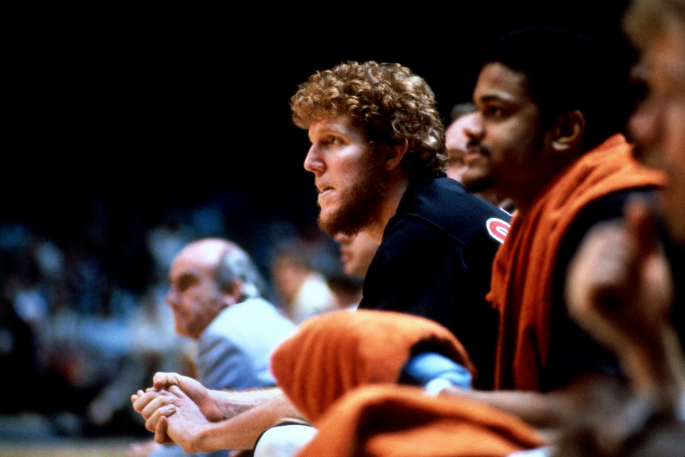 48. Nate "Tiny" Archibald (Hall of Fame, 6x All-Star, 1x NBA Champion)
During an era dominated by stalwarts, Tiny never let his height plague his play, leading the league in points (2,719) and assists (910) and was the League's scoring champion during the 1972-73 season. He spent 13 seasons in the NBA with six teams, including the Celtics' 1980-81 championship squad.
47. Willis Reed (Hall of Fame, 1x NBA MVP, 7x All-Star, 2x NBA Champion)
A staple on the great Knick teams of the late 1960s and early '70s, The Captain was a fearless interior player and is best known for playing Game 7 of the 1970 Finals with a torn thigh muscle. Unfortunately, injuries limited him over the last three years of his career and forced him into early retirement.
46. James Worthy (Hall of Fame, 7x All-Star, 3x NBA Champion)
It's an imperfect metaphor, but it helps to think of James Worthy as the Klay Thompson of the Showtime Lakers: easily overshadowed by superstar teammates but no less invaluable to a dynasty. A Game 7 triple-double of 36, 16 and 10 in the '88 Finals cemented Big Game's nickname for eternity.
45. George Mikan (Hall of Fame, 1x NBA MVP, 4x All-Star, 4x NBA Champion)
Throughout the '50s, nobody could draw a slew of fans or help defenders quite like George Mikan. The 6-10 bespectacled big man—who won four titles with the Minneapolis Lakers—redefined the center position, caused multiple league rule changes and was selected as the greatest player of the game's first half-century.
44. George Gervin (Hall of Fame, 9x All-Star)
It's tempting to think Gervin scored each of his 26,595 career points on finger rolls, but the Iceman had much more in his arsenal than that. He claimed his fourth and final scoring title in 1981-82, at age 30, averaging 32.3 per at a time when the three-point shot was still largely an afterthought.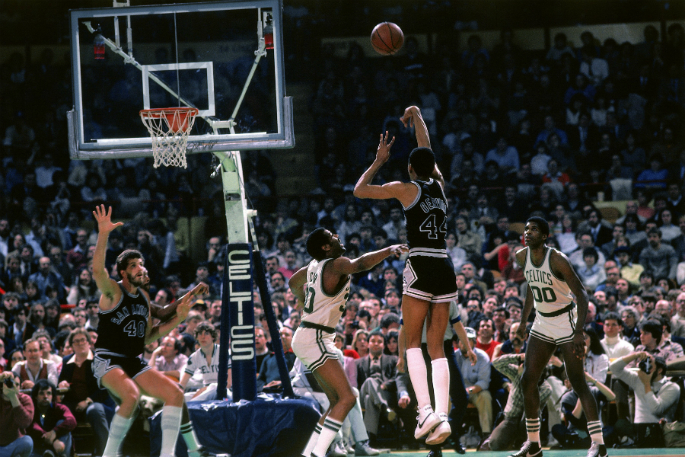 43. Clyde Drexler (Hall of Fame, 10x All-Star, 1x NBA Champion)
Drexler graduated from Houston's Phi Slama Jama to become one of the NBA's most potent wing scorers and exciting performers. Drexler was almost unstoppable off the dribble, and when he hit the open court, he was a highlight reel waiting to happen. Later in his career, he extended his game and became a solid three-point shooter.
42. Wes Unseld (Hall of Fame, 1x NBA MVP, 5x All-Star 1x NBA Champion)
Nothing better sums up Unseld's uniqueness than the fact that his first NBA season was his best. His rookie averages of 13.8 points and 18.2 boards helped him earn both ROY and MVP honors in '68-69. At 6-7, 245, the dude who turned outlet passes into highlights remains the game's most sublime bruiser.
41. Dominique Wilkins (Hall of Fame, 9x All-Star)
You can't talk about dunking without mentioning The Human Highlight Film. But the two-time Slam Dunk Champion was so much more. A nine-time All-Star and League scoring champ in 1985-86 (30.3 ppg), Nique was a bucket machine. His career scoring average of 24.8 ppg is 13th in NBA history, ahead of Larry Bird and Dr. J.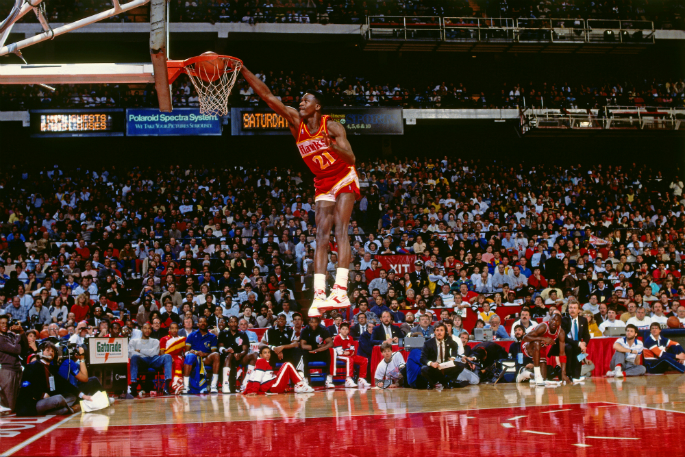 40. Kevin McHale (Hall of Fame, 7x All-Star, 3x NBA Champion)
We could recite the accolades (three-time champion, seven-time All-Star) but instead here's a suggestion: Drop whatever you're doing, cue up YouTube, type "Kevin McHale post moves" into the search bar and spend the next 10 minutes watching one of the game's all-time artists go to work.
39.  Gary Payton (Hall of Fame, 9x All-Star, 1x NBA Champion)
The Glove became one of the most feared players during the '90s for his tenacity on the defensive end. For 48 minutes, Payton was looking to make his opponents' lives hell, as he'd lock up and let guys know all about it with legendary trash talk learned on the playgrounds of Oakland.
38. Bob Cousy (Hall of Fame, 1x NBA MVP, 13x All-Star, 6x NBA Champion)
There's a scene in Blue Chips where 66-year-old Bob Cousy, wearing a shirt and tie, hits 10 consecutive free throws—the last one left handed—while engaged in serious dialogue with Nick Nolte. It wasn't scripted. Also, he averaged 18.4 ppg through his career and led the NBA in assists eight times during 13 All-Star seasons in Boston. Legend.
37. Russell Westbrook (7x All-Star, 1x NBA MVP)*
How do you capture the brilliance, essence and ferociousness of Russell Westbrook in just a few short sentences? Let's try this: TWO-TIME SCORING CHAMP! 2017 MVP!! ARCHITECT OF PERHAPS THE GREATEST INDIVIDUAL SEASON EVER! FIRST SINCE OSCAR TO AVERAGE A TRIPLE DOUBLE (AND HE DID IT TWICE)!!! STYLE ICON!!!!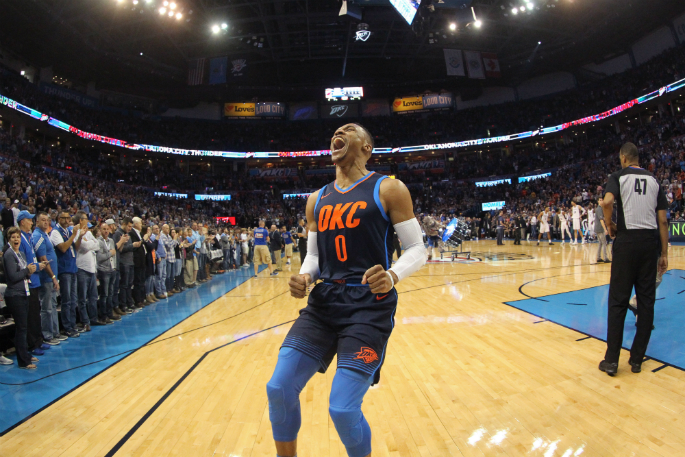 36. Walt Frazier (Hall of Fame, 7x All-Star, 2x NBA Champion)
To a millennial, Walt Frazier is the guy with the crazy suits and crazy vocabulary calling Knicks games a few times a week. To the OGs, Clyde was a Hall of Fame point guard who helped lead New York to a pair of NBA titles in the '70s. Frazier finished with career averages of 19 points and 6 assists per game, plus seven NBA All-Defensive First Team nods.
35. Chris Paul (9x All-Star)*
The greatest point guard of his generation. A brilliant passer who has led the League in total assists three times and a tenacious defender who has led the League in steals five times. Try to ignore the lack of playoff success (he's never played in a Conference Finals, but that could change very, very soon)—that's like scanning the Mona Lisa for a blemish.
34. Steve Nash (Hall of Fame, 2x NBA MVP, 8x All-Star)
The floppy-haired guard looked more suited for the skate park than NBA stardom, but the PG was a two-time MVP who could score from all over and set up his teammates like few others. He rode shotgun with Dirk in Dallas and then thrived in Phoenix's "seven seconds or less" attack as the perfect pass-first maestro.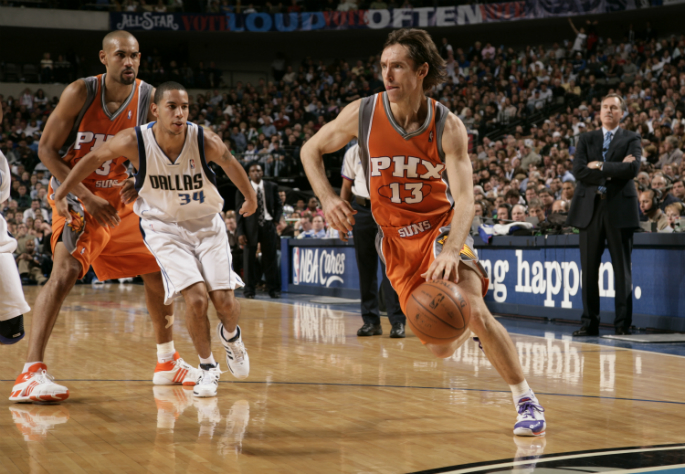 33. Elvin Hayes (Hall of Fame, 12x All-Star, 1x NBA Champion)
One of the most durable players in NBA history, the Big E missed just nine games in 16 seasons while piling up over 27,000 points and 16,000 boards. A tough defender and fierce competitor, Hayes helped Houston beat Lew Alcindor and UCLA in 1968's "Game of the Century."
32. Rick Barry (Hall of Fame, 8x All-Star, 1x NBA Champion)
Known for his unorthodox free-throw shooting form, Barry is the only player to lead the NCAA, ABA and NBA in scoring. The eight-time All-Star led the Warriors to their first Golden State-era title in 1975 with a Finals MVP performance.
31. Jason Kidd (Hall of Fame, 10x All-Star, 1x NBA Champion)
J-Kidd's list of accomplishments could take up an entire magazine itself, but the CliffNotes version is this: 10-time All-Star, 5-time All-NBA First Team, Olympic Gold medalist, NBA Champion, and Hall of Famer. He's top-10 all-time in three-pointers made and games played, and second highest ever in career assists.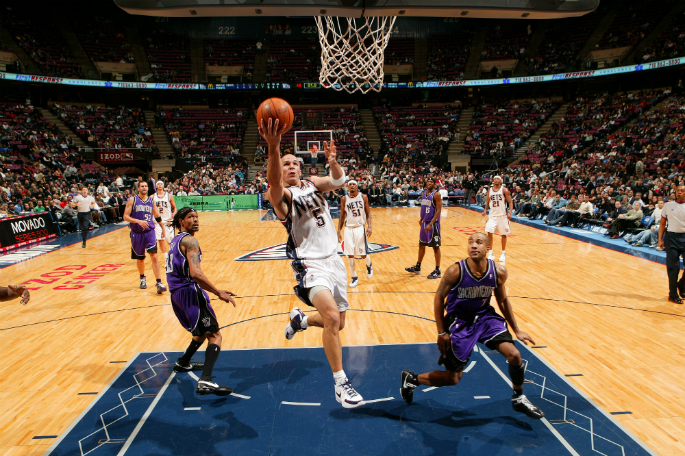 30. Patrick Ewing (Hall of Fame, 11x All-Star)
The No. 1 pick in the 1985 NBA Draft is one of the greatest to ever suit up in the Knicks orange and blue. Ewing averaged 22 and 10 during his remarkable stretch in Manhattan, earning him ROTY, 11 All-Star appearances and three All-Defensive honors en route to a Hall of Fame career.
29. David Robinson (Hall of Fame, 1x NBA MVP, 10x All-Star, 2x NBA Champion)
He averaged 25.6 points, 11.8 rebounds and 3.6 blocks in his first seven seasons, a run so ridiculous it's easy to forget that he sat out what should've been his first two seasons while fulfilling his Navy service. His consistency is overshadowed by Tim Duncan's, but don't get it twisted: The Admiral still ranks.
28. Allen Iverson (Hall of Fame, 1x NBA MVP, 11x All-Star)
Do we really have to spell it out for you? At (maybe) six-foot, Iverson's style and determination made him one of the most iconic players to ever pick up a basketball, point blank, period. Oh, and he has an MVP Award, 11 All-Star nods and four scoring titles to his name as part of a Hall of Fame career.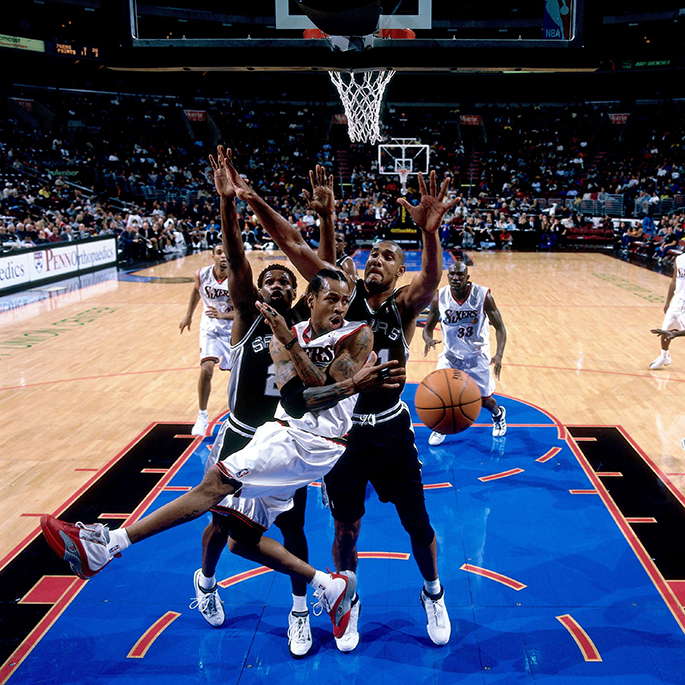 27. Dirk Nowitzki (1x NBA MVP, 11x All-Star, 1x NBA Champion)*
First he was a curiosity, then he was Steve Nash's long-haired running mate. Then he was another too-soft Euro who scored in bunches but couldn't win, and then he did win. And now it's been 20 years with the same team and that same ugly, beautiful shot. Swish.
26. Kevin Garnett (1x NBA MVP, 15x All-Star, 1x NBA Champion)
Drafted straight outta high school, KG took the T-Wolves to eight straight playoff appearances, then led the Celtics to an NBA title in 2008. Want proof of his insane versatility as a big man? Garnett became one of only five players in League history to lead his team in points, rebounds, assists, steals and blocks in 2002-03.
25. John Stockton (Hall of Fame, 10x All-Star)
Stockton played 19 seasons in his Hall of Fame career, and his Utah Jazz teams made the playoffs in all 19 of those campaigns. By the time he hung up his short shorts, he was the NBA's all-time leader in total assists and total steals.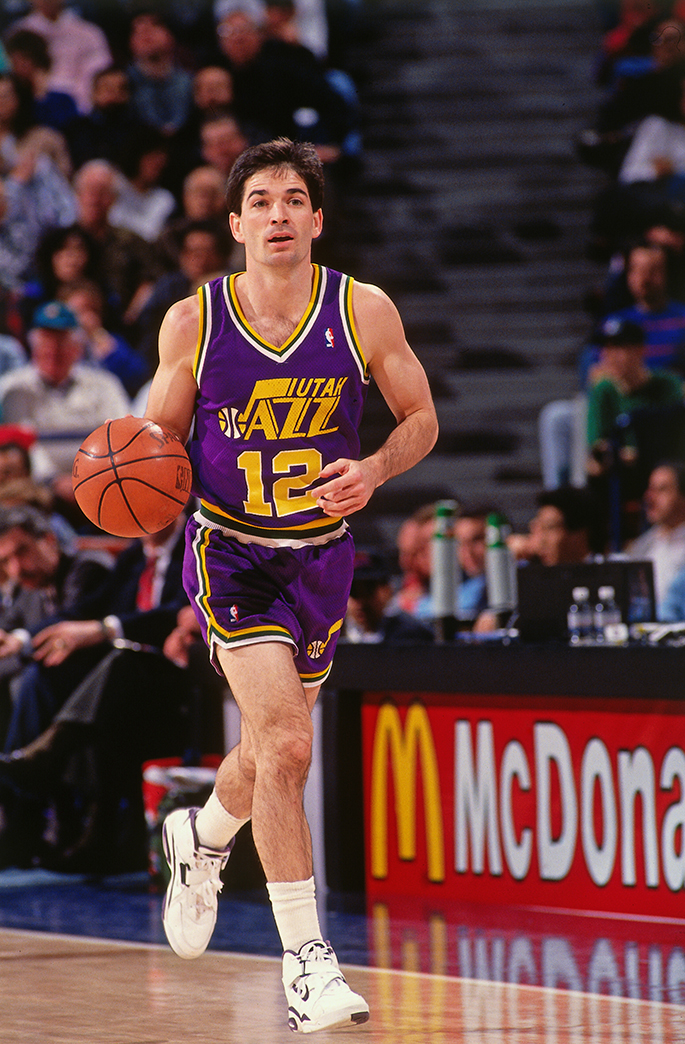 24. John Havlicek (Hall of Fame, 13x All-Star, 8x NBA Champion)
Havlicek stole the ball! That much you knew. You might not know that Hondo was arguably the best all-around defender of his era and finished his career as the Celtics' all-time scoring leader. Eight of his 16 seasons ended with titles. Best sixth man ever, and it's probably not even close.
23. Dwyane Wade (12x All-Star, 3x NBA Champion)*
Wade has the rings and the stats (12-time All-Star, a scoring title and career averages of 23, 5 and 6) to put him squarely in the conversation for third-best shooting guard in NBA history, behind Mike and Kobe. Low-key, he's one of the best shot-blocking guards to ever do it, too.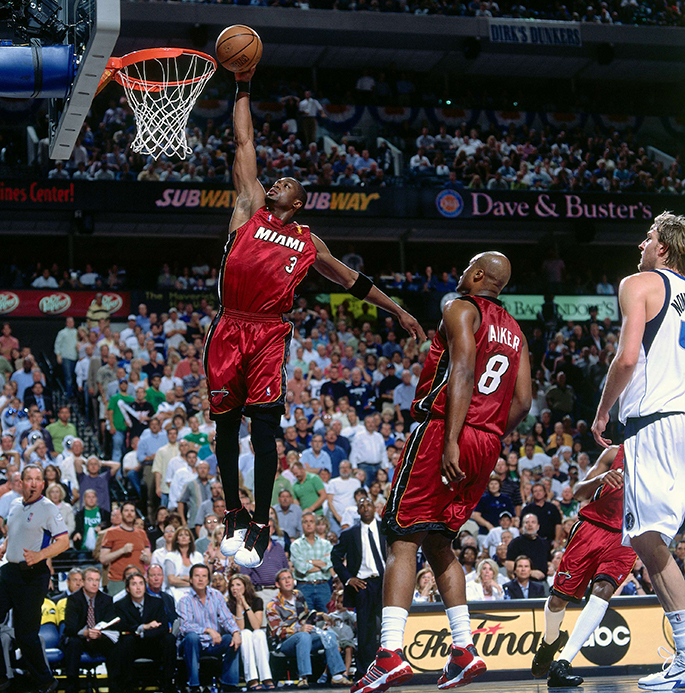 22. Scottie Pippen (Hall of Fame, 7x All-Star, 6x NBA Champion)
It's easy to dismiss Pippen as Michael Jordan's lieutenant, but the 6-8 small forward helped redefine the position with his ability to pass, defend multiple positions and score from all over. Pippen's Central Arkansas pedigree made him an unlikely star, but his all-around game made him much more than a supporting actor.
21. Karl Malone (Hall of Fame, 2x NBA MVP, 14x All-Star)
Alongside John Stockton, Malone was part of one of the greatest guard-forward combinations in NBA history, and is currently second on the all-time scoring list with 36,928 points. The Mailman may never have hoisted the Larry O'Brien trophy, but he achieved virtually everything else, making a remarkable 11 straight All-NBA First Teams.
20. Charles Barkley (Hall of Fame, 1x NBA MVP, 11x All-Star)
Sir Charles was strong, bold, mobile and wanted to win by any means necessary. A one-time MVP and 11-time All-Star, the Round Mound of Rebound is one of only four players in NBA history to rack up 20,000 points, 10,000 boards and 4,000 dimes.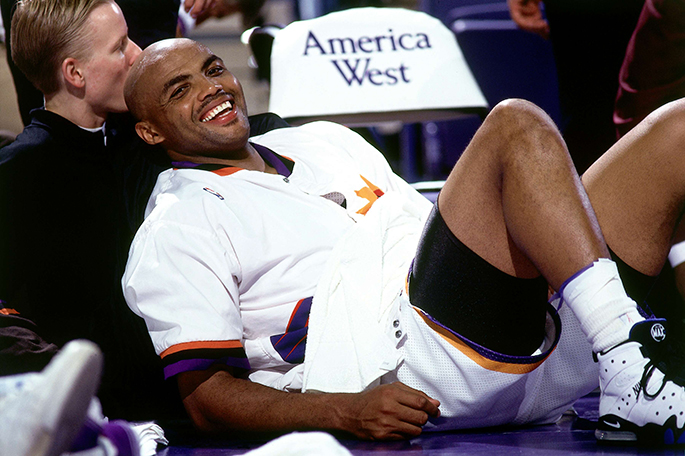 19. Stephen Curry (2x NBA MVP, 5x All-Star, 2x NBA Champion)*
A skinny kid from Davidson whose early career was sabotaged by bad ankles, Curry has become the NBA's most deadly long-range assassin. His skill to launch bombs quickly off the dribble and his amazing ability to slalom through defenses make him virtually unguardable.
18. Elgin Baylor (Hall of Fame, 11x All-Star)
Baylor's résumé is ridiculous. He was an 11-time All-Star. He was named All-NBA First Team 10 times, a number only three players have surpassed. Most noteworthy, though, might be the protest he helped lead prior to the 1964 All-Star Game (Google it) that led to the formation of the player's union and the rights today's players enjoy.
17. Isiah Thomas (Hall of Fame, 12x All-Star, 2x NBA Champion)
Zeke may have had a disarming smile, but on the court, the Pistons' point guard was a stone killer. He directed the Bad Boys' physical symphony and stuck daggers into the hearts of rivals with clutch playmaking. The engine of two Detroit title teams and survivor of Bob Knight's Indiana program, Thomas was a ruthless leader.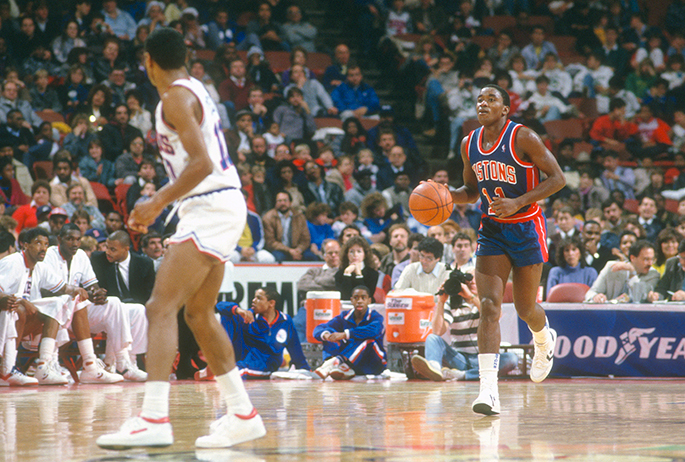 16. Jerry West (Hall of Fame, 14x All-Star, 1x NBA Champion)
West was so good and so prolific that the NBA still uses his silhouette at its logo. That says it all. He played in the All-Star Game during every one of his 14 seasons, made more clutch shots than just about anybody else and was the only player to be Finals MVP on a losing team.
15. Julius "Dr. J" Erving (Hall of Fame, 1x NBA MVP, 11x All-Star, 1x NBA Champion)
The Doctor defined cool with his otherworldly vertical jump, trademark afro and overall swagger. Until his knees intervened, Erving was a hardwood acrobat, tormenting ABA and NBA defenders with his hang time and ferocious play around the run. He developed a jumper later on but was known primarily for his high-flying highlights.
14. Moses Malone (Hall of Fame, 3x NBA MVP, 12x All-Star, 1x NBA Champion)
As the first player to go from high school to the pros, Big Mo knew he could hang with grown men from the beginning. He was the 1982-83 Finals MVP and champion, and his ability to corral rebounds put him in the top-5 (16,212) all time.
13. Kevin Durant (1x NBA MVP, 9x All-Star, 1x NBA Champion)*
KD hasn't even hit his 30s yet, and his résumé already makes him a lock for the Hall of Fame. He was a four-time scoring champ even before he joined the modern day dynasty that is the Golden State Warriors, where he added the hardware that ought to cement his place among the greats to ever play the game.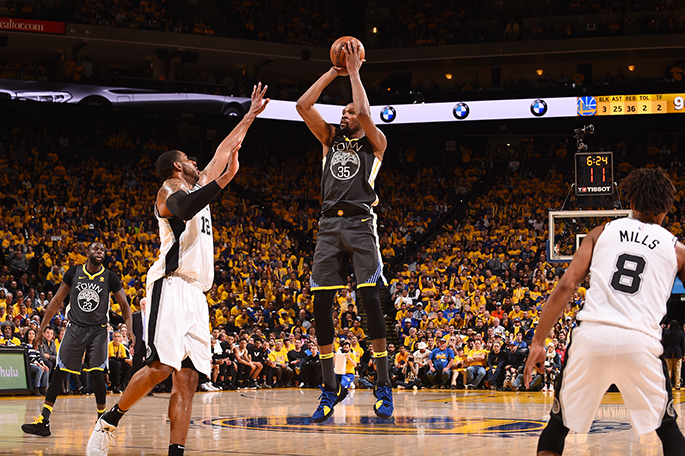 12. Hakeem Olajuwon (Hall of Fame, 1x NBA MVP, 12x All-Star, 2x NBA Champion)
In an era of great centers, Olajuwon proved himself the greatest. David Robinson, Patrick Ewing, young Shaq—he vanquished them all while leading the Rockets to consecutive titles in '94 and '95. He's also the NBA's all-time leader in blocked shots. The originator of the Dream Shake, too. That alone validates this ranking.
11. Oscar Robertson (Hall of Fame, 1x NBA MVP, 12x All-Star, 1x NBA Champion)
Oscar Robertson was ahead of his time. The first player to ever average a triple-double for an entire season (in 1961-62), the Big O was balling on a different level. He won an MVP and led the Bucks to their only NBA title as part of a 14-year Hall of Fame pro career.