You can find more of the SLAM TOP 100 list here: 
100-51 
50-11
No. 10: Larry Bird
No. 9 Tim Duncan
No. 8: Wilt Chamberlain
No. 7: Bill Russell
No. 5: Kobe Bryant
No. 4: Kareem Abdul-Jabbar
No. 3: Magic Johnson
No. 2: LeBron James
No. 1: Michael Jordan
Order your copy of the SLAM TOP 100 issue at our store. 
—
Considering he was an active NBA player this decade, it is difficult to imagine a player whose greatness has been more inexplicably forgotten by so many than Shaquille O'Neal.
OK, so maybe "inexplicable" isn't the right word.
There are reasons, some of them valid, why even knowledgeable fans tend to underrate just how good Shaq really was. And, yes, some of them are the big man's own fault. He was always a guy whose appetites—for jokes, for acting gigs and commercial endorsements, not to mention his literal appetite—made it easy to question his dedication to the game. For a lot of younger fans especially, he's just that jovial giant goofing on Charles Barkley on Inside the NBA, then hawking Gold Bond and Icy Hot when the game goes to commercial. He's a "basketball personality" who, rumor has it, used to play the game.
Then there's that other segment of the audience, fans and even some media types who are old enough to know better. Some fixate on those last few vagabond years of his career, when he was only occasionally healthy and engaged. Others look at how the game has changed, the pace and the emphasis on threes and the relative lack of traditional bigs, and dare to wonder if Shaq could thrive in the modern NBA. And hey, it's fine to wonder. But it's not OK to fool yourself.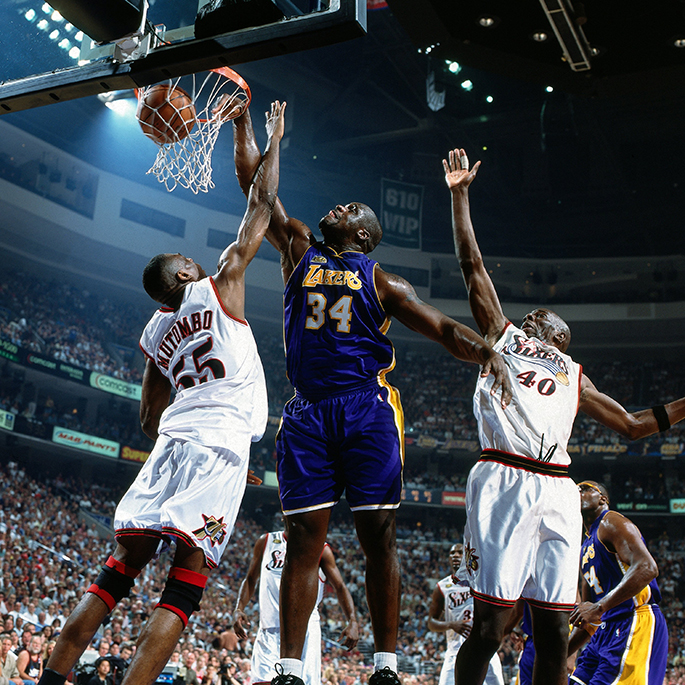 For a guy officially listed at 7-1, 325 pounds, the outsized career numbers are always a good place to start. He retired after the 2010-11 season with 28,596 points (eighth best all-time), 13,099 rebounds (good for 14 all-time), and 2,732 blocks, placing him eighth on the official list. He was a 15-time All-Star and eight-time All-NBA First Team pick. And of course, he's got those four rings.
Those grand totals aside—and even forgetting about those ridiculously fun first few years in Orlando and his vital contributions to Dwyane Wade's first title team in Miami in '05-06—there's a three-year period in Los Angeles that tells you all you should ever need to know.
From '99-00 to '01-02, Shaq averaged 28.5 points and 12.3 rebounds per game.
That was during the regular season, of course. In 58 playoff games during that same run, The Big Aristotle averaged 29.9 points and 14.5 boards.
For the entire playoffs.
But in the 15 NBA Finals games he played during that stretch—the games with the highest stakes and the most pressure—Diesel averaged 35.9 points and 15.2 rebounds per game.

So, sure, you can wish he'd stayed in better shape, been less of a distraction, put his ego aside in Orlando or L.A., extended his peak. Maybe he'd have another MVP or two, maybe another ring. But if you don't realize how dominant he really was, if you've chosen to believe otherwise, or if you've simply forgotten, correct that oversight here. By every measure, Shaq was outstanding.
Photos via Getty Images.
RELATED
SLAM's Top 100 Players Of All-Time: 100-51
SLAM's Top 100 Players Of All-Time: 50-11
Larry Bird, No. 10
Tim Duncan, No. 9
Wilt Chamberlain, No. 8
Bill Russell, No. 7