You can find more of the SLAM TOP 100 list here: 
100-51 
50-11
No. 10: Larry Bird
No. 9 Tim Duncan
No. 8: Wilt Chamberlain
No. 7: Bill Russell
No. 6: Shaquille O'Neal
No. 4: Kareem Abdul-Jabbar
No. 3: Magic Johnson
No. 2: LeBron James
No. 1: Michael Jordan
Order your copy of the SLAM TOP 100 issue at our store. 
—
Kobe Bean Bryant entered the NBA straight out of high school and proceeded to play his entire 20-year career for the Los Angeles Lakers. That his career played out under the bright lights of L.A., for one of the most storied franchises in the League, only adds to the allure of his legacy. That he's been retired for two seasons now almost doesn't seem real.
A former MVP, five-time NBA champion, two-time Finals MVP, 18-time NBA All-Star, two-time scoring champion, two-time Olympic Gold medalist and 11-time First Team All-NBAer, Bryant finished his career with the third-most points in NBA history (33,643), sandwiched between Karl Malone and Michael Jordan. There are more accomplishments that deserve mention, like the nine NBA All-Defensive First Team nods, the Slam Dunk title he added to his résumé as a rookie that helped him burst on the scene, or the fact that he had not one, but two jersey numbers retired by the Lakers. The individual seasons were eye-popping, too, like his League-leading 35.4 ppg (WTF?) in '05-06 or his nine consecutive 40-point games in '02-03, to tie MJ's record, just to name a couple.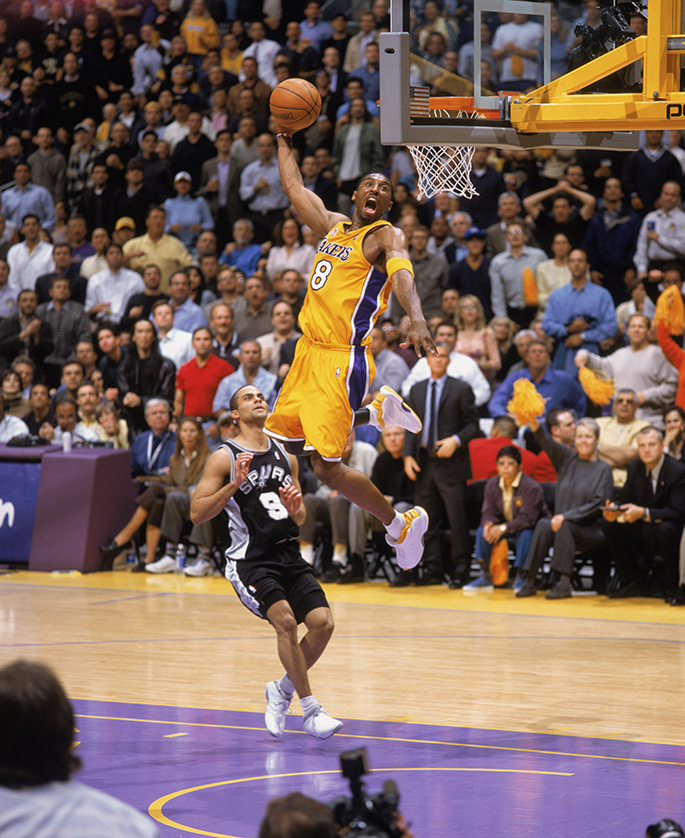 And then there are the memories. Oh, the memories. The 81-point game. Sixty-two points through three quarters in another. Remember Game 7 of the 2000 Western Finals vs. Portland? What about Game 7 of the 2010 NBA Finals vs. Boston? Or that time he casually sank free throws on a torn Achilles tendon? There are dozens more in between, all with a trademark scowl on his face and the roar of a lion in his heart.
Later in Kobe's career, the "Black Mamba" became a nickname, and then a mentality, which was equally intimidating to opponents and inspiring to the next generation of athletes. He'd work harder, be more tenacious, more of an asshole—he liked being the villain—than anyone else on the court at all times.
And it made him great.
"He pissed me off a lot," Kevin Durant said in a Nike ad commemorating Kobe's retirement. "He happened to say, You guys can't even sit at the lunch table with me. I got five championships. What do you have?" Yup, an asshole 'til the bitter end.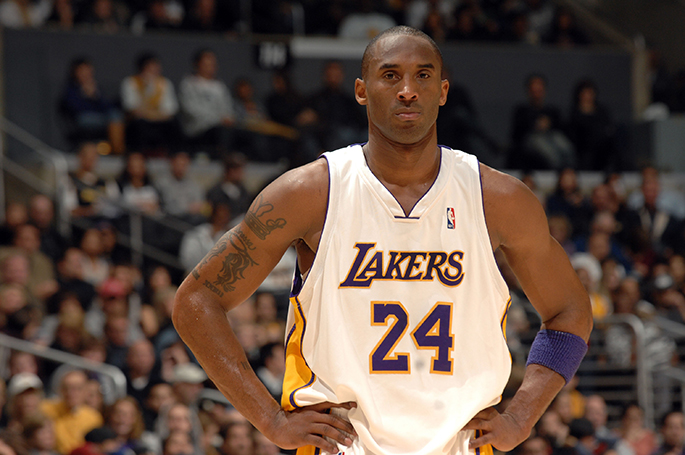 Kobe is inarguably one of the best players, and most prolific scorers, in the history of the game. His Hall of Fame induction is only a matter of time. Where he ranks on the all-time list of greats will forever be a debate. Should he be higher? Top-5, maybe?
"I would never put myself in the [all-time] starting five ever," Kobe told Good Morning America in 2015. "I would put the people that I've actually learned the most from, being Jordan, Magic, Bird, Hakeem Olajuwon and Jerry West."
It's a nice sentiment from Kobe, whose enormous respect for the history of the game has never wavered. But we can all agree that deep down, the famous Mamba mentality would never allow him to truly believe any player was ever better than he was—right?
Photos via Getty Images.