You can find more of the SLAM TOP 100 list here: 
100-51 
50-11
No. 10: Larry Bird
No. 9: Tim Duncan
No. 8: Wilt Chamberlain
No. 7: Bill Russell
No. 6: Shaquille O'Neal
No. 5: Kobe Bryant
No. 4: Kareem Abdul-Jabbar
No. 2: LeBron James
No. 1: Michael Jordan
Order your copy of the SLAM TOP 100 issue at our store. 
—
Perhaps unique among the many good and great players who have lost substantial chunks of their careers to injury, offcourt issues or illness, Earvin Johnson doesn't feel like a guy who got robbed. Or more to the point: In hindsight, and strictly from a basketball perspective, it doesn't feel like we were robbed of him.
This is not to minimize the impact of his HIV-enforced retirement on the eve of the '91-92 season, a cultural earthquake whose magnitude is hard to fully appreciate all these years later. Nor is it to forget that, given how little we understood about the virus at the time, most fans immediately assumed he had been handed a death sentence—that he might literally have just months to live. It's only to say that, by that point, the man known universally as Magic had already lived the fullest possible basketball life.
By the fall of 1991, Magic Johnson had a National Championship ring, and a literal handful of NBA championship rings to go with it. He was an 11-time All-Star and three-time League MVP. He was a lock Hall of Famer and one of the greatest players of all time, facts that were indisputable whether he played another game.
And yet.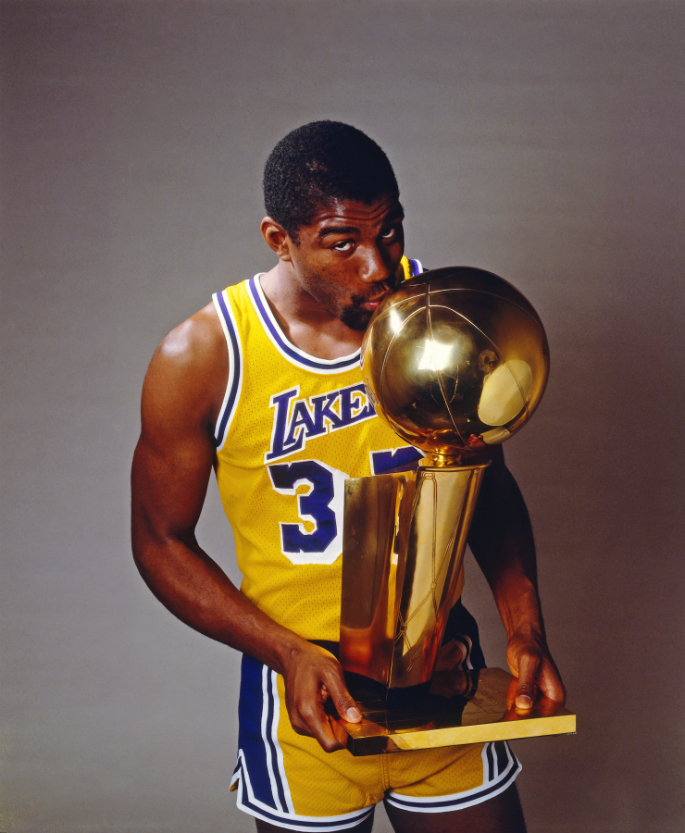 Magic was only 32 years old that fall, coming off a season in which he averaged 19.4 points, 7 rebounds and 12.5 assists, numbers almost identical to his full career averages. He was healthy, having led the Lakers back to the NBA Finals the previous spring, where they were the first casualty of Michael Jordan's burgeoning Chicago dynasty. They would have their hands full fighting off hungry challengers in the West, let alone stopping the Bulls, but with a healthy Magic running the show and competitive as ever, the Lakers would be contenders for the foreseeable future.
Then fate intervened, and with the exception of his (yes) magical '92 All-Star run, his stint with the '92 Dream Team, and his brief NBA comeback in '95-96, Magic's playing days were over. And so we were robbed. He and all of us, robbed of years of memories, of more highlights, more inspiration, more joy. But again, this is where hindsight eases the bitterness of that loss. With the benefit of time, it's easy to appreciate just how much Magic we got.
In the social media era, he would've been a national celebrity in high school; that talent and style and big, beaming smile would've been too much to ignore. Instead, young Magic led his Everett (MI) High team to a state championship in relative anonymity, then blossomed into a star as he carried Michigan State to the 1979 NCAA title at the expense of upstart Indiana State and Larry Bird. It was Magic who took home Final Four MOP honors, and Magic who was the No. 1 pick in that summer's NBA draft.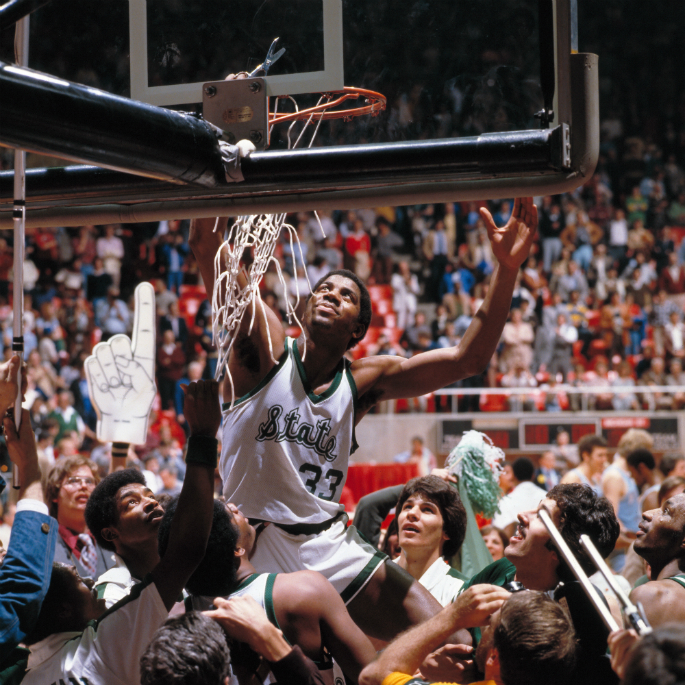 That pick belonged to the Lakers, and despite his small-town Midwestern roots, it was immediately obvious that everything about Magic was perfectly suited to the League's most glamorous fan base. A point guard with power forward size, he did nothing less than revolutionize his position and the possibilities of the game itself. No one was supposed to be able to pass like that, let alone a 6-9 dude who tried to turn every possession into a choreographed track meet with a finish line at the opponent's rim. His game was the dream offspring of style and substance, his persona an unprecedented hybrid of rabid competitiveness and boyish, smiling joy.
And here's the thing: If he'd never played another game beyond his rookie season, Magic Johnson might still have ended up in the Hall of Fame. He was that good when it mattered, filling in for an injured teammate who just happened to be that year's League MVP. With Kareem Abdul-Jabbar sidelined for Game 6 in Philly, he jumped center for the opening tip, played every position on the floor over the course of the game, and finished with 42 points, 15 rebounds and 7 assists. The Lakers clinched the title in a route, and the 21-year-old rookie had earned the first of his three Finals MVPs and the first of his five rings.
He did plenty more over the next 11 seasons to confirm his place in the GOAT conversation. Maybe a few more years would have put him over the top, but that what-if seems silly to dwell on. While he could, he gave us everything he had, and it was everything that made basketball great.