Making a list like the one we put together for this magazine (and that will now be released on this website) is tough. There's no pleasing everybody, and more often than not, it feels like there's no pleasing anybody. That's fine, of course—ultimately the point is that you enjoy the explanations and images and debate the actual rankings with friends, family, maybe even yourself. (We've all done that, no?)
So, we enlisted some help. It's not that we couldn't do it alone—we've done it many times before—but we wanted to create a system that could protect ourselves from the inevitable "They don't really know hoops!" that haters spew if (OK, when) they disagree with the list in any form. What we did was create a "board" of voters, a group of individuals who represent the sport of basketball in some fashion, and collected a Top 100 Players of All-Time list from each of them. (SLAM's editorial staff submitted one list into that group.) Then we averaged them together using a fancy spreadsheet and voilà: We had a list, which became the one we used for our TOP 100 issue.
The folks we gathered lists from are connected to basketball in all sorts of unique ways. We wanted to make sure we were covered from top to bottom. Among those whose experience is on the court, we've got a Hall of Famer, a current NBAer, a current WNBAer, an NCAA stud/rookie-to-be and a top high school prospect. Off of it, we've got people who cover the sport for a variety of platforms—television, newspapers, books, social media—plus a basketball-obsessed celebrity and a single vote to our edit staff. The group of individuals span just about every age demo and all approach the game a little differently. It's a good mix, and if our list looks a little awkward at times (like the run of consecutive Lakers in the top 10), it's because it's authentically an average of a bunch of other lists.
As for the rankings, we allowed those who submitted lists to dictate how they believe players new and old should be ranked against one another. Most people skewed young, favoring newer legends over old-school favorites—a practice we at SLAM stand behind more often than not—but enough people showed love to the forefathers that they're repped well throughout.
(A quick note on those lists: They were compiled and averaged in very early 2018, so any amazing performances by active players over the past five or so months were not taken into consideration. Don't worry, we'll do all this again soon enough.)
Feel free to let us know what your Top 100 would look like in the comments or on any social network (@SLAMonline), or just argue about it with your friends. That's what they're there for. Enjoy.
—Adam Figman, Editor-in-Chief
—
Here are the people we asked to submit their rankings: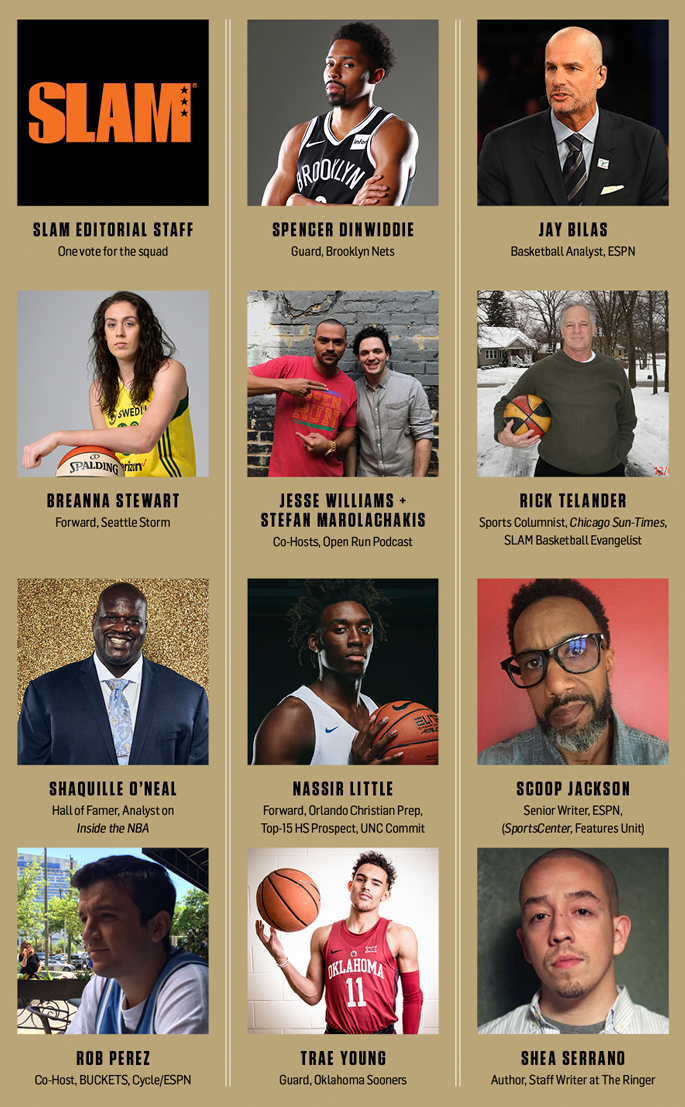 —
Below you'll find 100-51 on the SLAM TOP 100. Here's more of the list:
50-11
No. 10: Larry Bird
No. 9 Tim Duncan
No. 8: Wilt Chamberlain
No. 7: Bill Russell
No. 6: Shaquille O'Neal
No.5: Kobe Bryant
No. 4: Kareem Abdul-Jabbar
No. 3: Magic Johnson
No. 2: LeBron James
No. 1: Michael Jordan
All player write-ups by Michael Bradley, Peter Robert Casey, Ryan Jones, Max Resetar, Drew Ruiz, Abe Schwadron, Alex Squadron and Yaron Weitzman.
*Active players
100. Shawn Kemp (6x All-Star)
He dunked like he had a point to make, and no wonder: Kemp skipped college and endured a difficult rookie season before finding his footing, averaging 18 and 10 over the next decade, including that unforgettable run in Seattle. He was far from perfect, but at his best, he made it reign, man.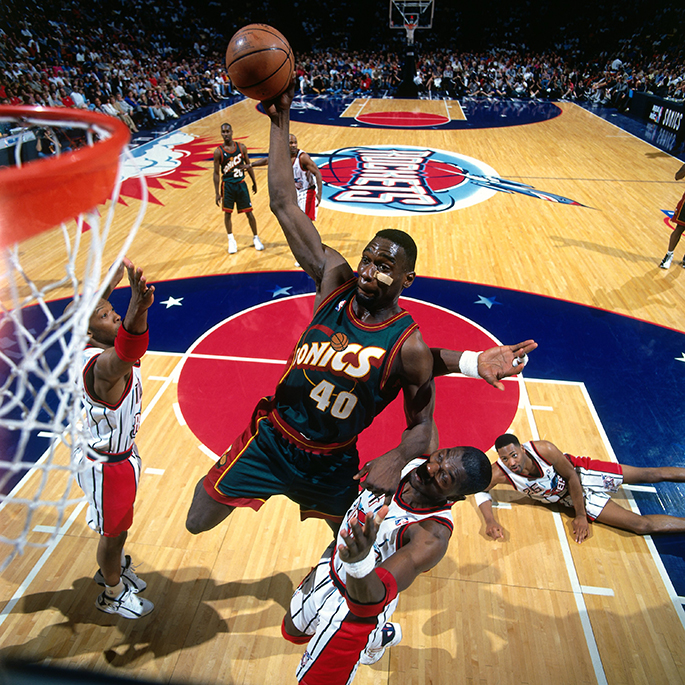 99. Lenny Wilkens (Hall of Fame, 9x All-Star)
This left-handed PG could do a little bit of everything. Wilkens was a tremendous passer, stout defender, strong rebounder and was capable of scoring just about anywhere from 15 feet and in. The Brooklyn native was a classic New York City guard: tough, but savvy enough to run a successful team.
98. Spencer Haywood (Hall of Fame, 4x All-Star, 1x NBA Champion)
For the first seven years of his career, Haywood was one of the most imposing frontcourt players in the game. A strong, athletic specimen, Haywood exploded on the scene with Denver of the ABA before becoming one of the NBA's top forwards. Injuries and off-court problems derailed him later in his career.
97. Dave DeBusschere (Hall of Fame, 8x All-Star, 2x NBA Champion)
Turning this over to this writer's dad, a New Yorker who idolized DeBusschere's 1970 and '73 championship Knicks squads: "An all-time great defender and rebounder and an excellent shooter. This ranking is too low." Two fun facts: DeBusschere spent two years pitching for the White Sox and he was a player-coach for the Pistons at the age of 24.
96. Tim Hardaway (5x All-Star)
In his prime—an eight-season run in which he averaged 20 points and 9 assists—Hardaway was as good as any point guard in the League. But forget the stats, and know that anyone connected to two of the best nicknames in hoop history—the UTEP Two-Step and Run TMC—was a lock on this list regardless.
95. Carmelo Anthony (10x All-Star)*
In late January 2018, Carmelo became the 21st player in NBA history to score 25,000 points, joining Dirk Nowitzki and LeBron James as the third active player to reach that milestone. Over the course of 15 seasons, Melo's showcased why he's one of the most elite scorers the League has ever seen.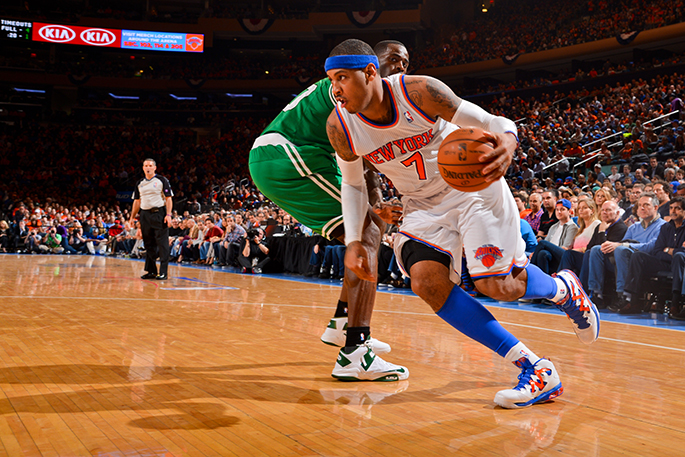 94. Sidney Moncrief (5x All-Star)
Moncrief was a key member of the '80s Bucks teams that were a perennial contender in the East. While Moncrief is most remembered for being able to jump out of the gym, he was also a fine shooter, rebounder and passer. He averaged more than 20 points a game for four years and was a lockdown defender who won the Defensive POY award in '83 and '84.
93. Pau Gasol (6x All-Star, 2x NBA Champion)*
Six times an All-Star, twice an NBA champion and a legend in Europe, Pau Gasol will go down as one of the most well-rounded big men to ever lace 'em up. With career averages of 18 and 9, the 7-foot Spaniard remains a matchup nightmare well into his late-30s.
92. Penny Hardaway (4x All-Star)
The numbers don't do justice to his impact, although averages of nearly 20 points and 7 assists in his first four seasons come close. For that fleeting moment, he was Magic 2.0, and alongside a dynamic young Shaq, he looked ready to take over the League. Injuries cheated him, and us. But we don't forget. 91. Jack Twyman (Hall of Fame, 6x All-Star)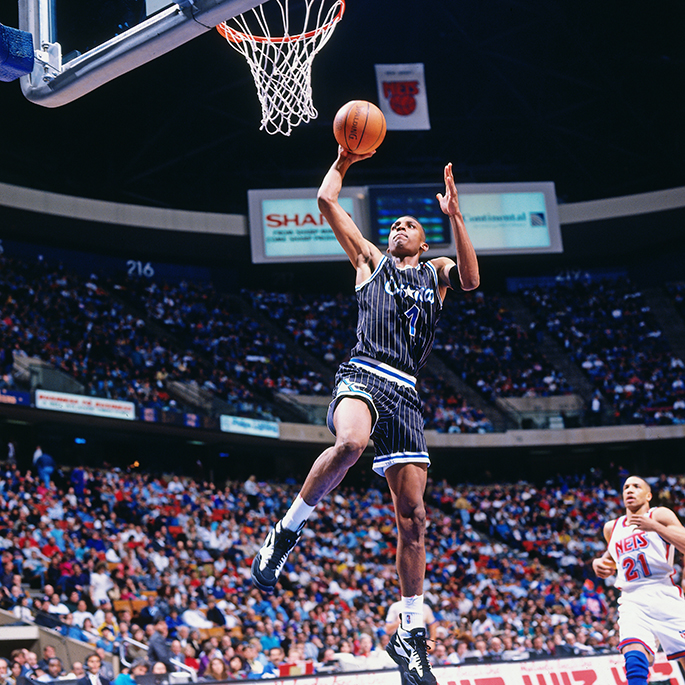 91. Jack Twyman (Hall of Fame, 6x All-Star)
No player had averaged 30 points a game in a season until Twyman and Wilt Chamberlain accomplished the feat in the 1959-60 season. Twyman was a swingman with a good shooting stroke and the ability to get to the basket. A Hall of Famer, he is perhaps best known for becoming the legal guardian of teammate Maurice Stokes after Stokes became paralyzed following a fall during a game.
90. Hal Greer (Hall of Fame, 10x All-Star, 1x NBA Champion)
An old-fashioned 2-man who excelled at shaking loose to shoot—and hit—the foul-line jumper, Greer is one of the most underrated guards in NBA history. A 10-time All-Star, he played a key role on the Sixers' 1967 championship team.
89. Dwight Howard (8x All-Star)*
Don't let the low free-throw percentage fool you. Dwight Howard, who jumped straight to the League from high school in 2004, is an eight-time All-Star, eight-time All-NBA selection, five-time All-Defensive team member and three-time Defensive Player of the Year. In 2008, he anchored the paint for Team USA's Gold medal run at the Beijing Games.
88. Chris Webber (5x All-Star)
Had his career not been slowed by injuries, Webber would have been much higher on this list. A highly skilled forward with some of the best hands in NBA history, he provided offensive versatility and strong board work for Sacramento's early-2000s contenders but faded late due to knee woes.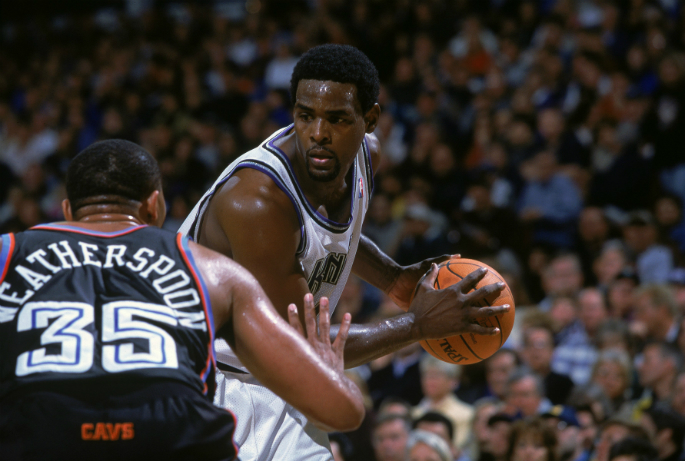 87. Alex English (Hall of Fame, 8x All-Star)
It'd be damn near impossible to find an old-school player who was as smooth as Alex English, who appeared to glide across the court and was a centerpiece of the high-scoring Denver teams of the '80s. English was outstanding with the pull-up jumper and could finish around the basket with tremendous consistency.
86. Dave Bing (Hall of Fame, 7x All-Star)
Long before guys like Westbrook, Curry and Harden took over, Bing helped originate the role of high-scoring combo guard. He averaged 24 points and 6 assists over his first seven seasons in Detroit. They might not know it, but today's dominant lead guards are following the Duke's lead.
85. Giannis Antetokounmpo (2x All-Star)*
Antetokounmpo's "Greek Freak" nickname refers to his combo of 7-foot wingspan, 6-11 height, insane athleticism and All-Star guard skills. At 23 years old, he's already one of the best players in the NBA. In 2016-17, Giannis became the first player in history to finish in the top-20 in total points, rebounds, assists, steals and blocks.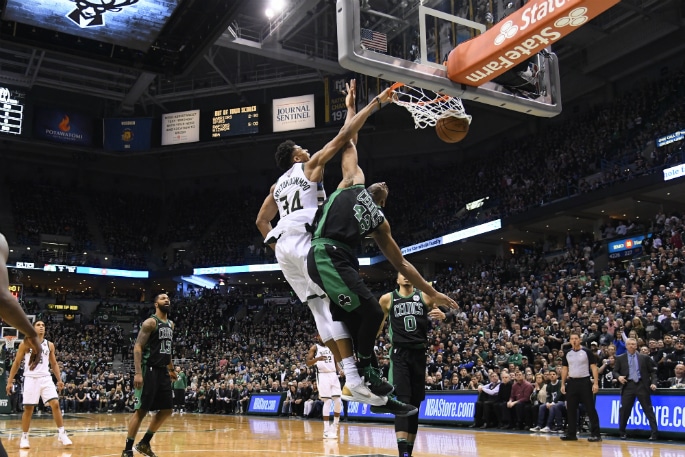 84. Chris Mullin (Hall of Fame, 5x All-Star)
A member of Golden State's "Run TMC" teams under Don Nelson, Mullin was a versatile scorer and master of completing old-fashioned three-point plays. Mullin lacked overwhelming speed and didn't jump that high, but he excelled at getting open, burying shots from inside and outside the arc and finishing in the lane.
83. Joe Dumars (Hall of Fame, 6x All-Star, 2x NBA Champion)
The '89 Finals MVP and a two-time champ, Dumars teamed up with Isiah Thomas to form one of the greatest backcourts in NBA history on the Bad Boy Pistons. Primarily known as a menace on the defensive end, it's easy to forget Joe D averaged over 20 ppg in his prime.
82. Kyrie Irving (5x All-Star, 1x NBA Champion)*
Arguably the best ballhandler in the history of the game, Irving made the biggest shot of the 2016 Finals, lifting the Cavaliers to their first-ever title alongside LeBron. After a blockbuster trade sent him to Boston, the five-time All-Star and former ROY is now the face of one of the NBA's most talented squads.
81. Grant Hill (Hall of Fame, 7x All-Star)
It's too easy, where Hill is concerned, to focus on what could've been. For once, focus on what was: He averaged 22, 8 and 6 over his first six seasons, and despite the career-altering injuries, still averaged 17, 6 and 4 over 18 seasons. Yes, he could've been an all-timer. He was still awfully good.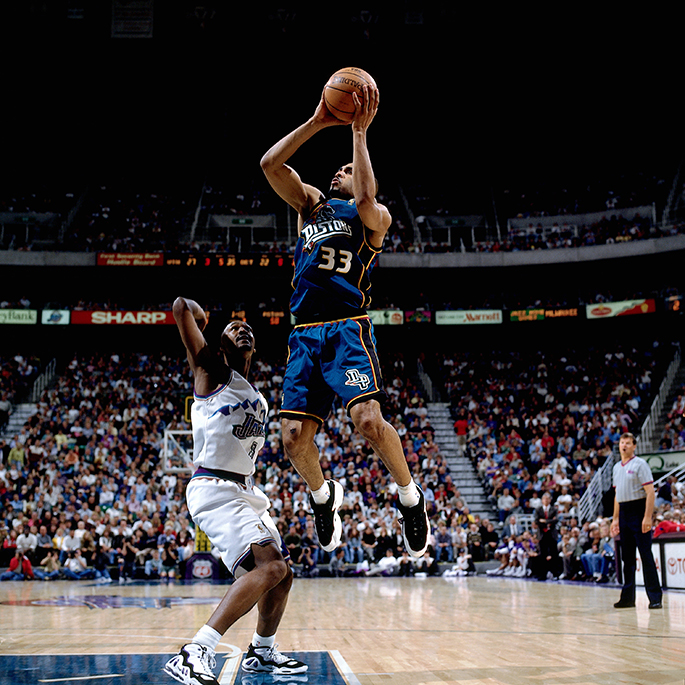 80. Dikembe Mutombo (Hall of Fame, 8x All-Star)
The finger wag was Dikembe's go-to taunt as he let opponents know they failed countless times when attempting to score anywhere near Mt. Mutombo. His defensive prowess to contest shots against some of the League's best players during his 18-year career made him one of the most respected rim protectors.
79. Artis Gilmore (Hall of Fame, 6x All-Star)
By the time Gilmore made it to the NBA, he was something of a legendary figure, having dominated ABA lanes with his 7-2 frame (7-5 with the Afro) and tremendous strength. Gilmore remained an imposing figure in the paint with the Bulls and Spurs, scoring well inside and cleaning the glass.
78. Alonzo Mourning (Hall of Fame, 7x All-Star, 1x NBA Champion)
A two-time Defensive Player of the Year who averaged more than 20 points six different times, Zo was everything you could want in a center. But forget all that for a moment because this might be the only Mourning fact that matters: He played six seasons after undergoing a kidney transplant in 2003.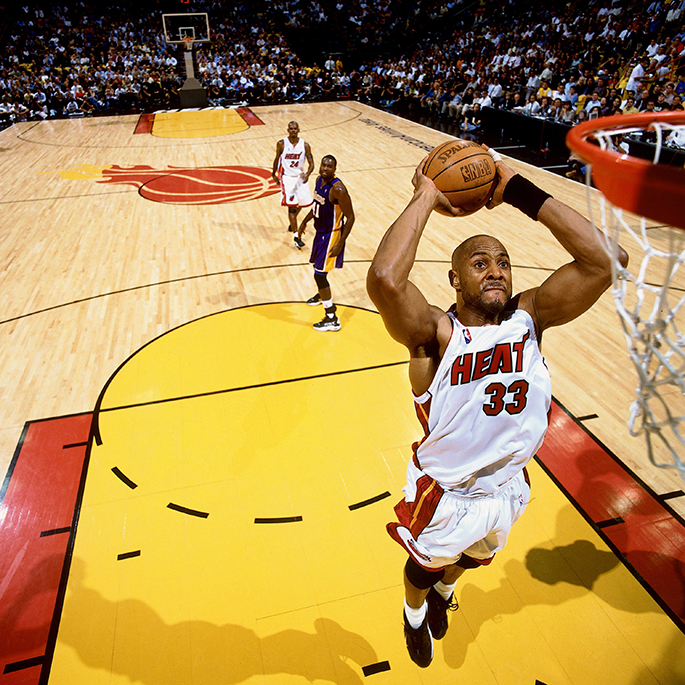 77. Adrian Dantley (Hall of Fame, 6x All-Star)
An undersized forward at 6-5, Dantley was a classic scorer who topped 30 ppg in four straight seasons. AD was not known for his willingness to pass the ball and defended with a decided lack of enthusiasm, but when the ball was in his hands, he was an unstoppable offensive force.
76. Kawhi Leonard (2x All-Star, 1x NBA Champion)*
Kawhi Leonard has always let his game do the talking. And damn if it doesn't scream "All-Time Great!" He's already got two Defensive Player of the Year Awards, a pair of All-NBA First Team nods, a ring and a Finals MVP trophy to his name, and he's only 26 years old.
75. Billy Cunningham (Hall of Fame, 4x All-Star, 1x NBA Champion)
A bouncy small forward with the ability to drive to the basket furiously, the Kangaroo Kid was a dervish who could score, rebound and set up his teammates like few others at his position could. A knee injury and a detour to the ABA curtailed his career, but he became a successful coach who led the Sixers to the 1983 NBA title.
74. David Thompson (Hall of Fame, 4x All-Star)
As legacies go, you could do worse than being the primary inspiration for a young Michael Jordan. Thompson's career was cut short by injures and offcourt issues, but for that soaring six-year run in Denver when he averaged 25 points per game, there were few better, or more fun to watch. Mike knew.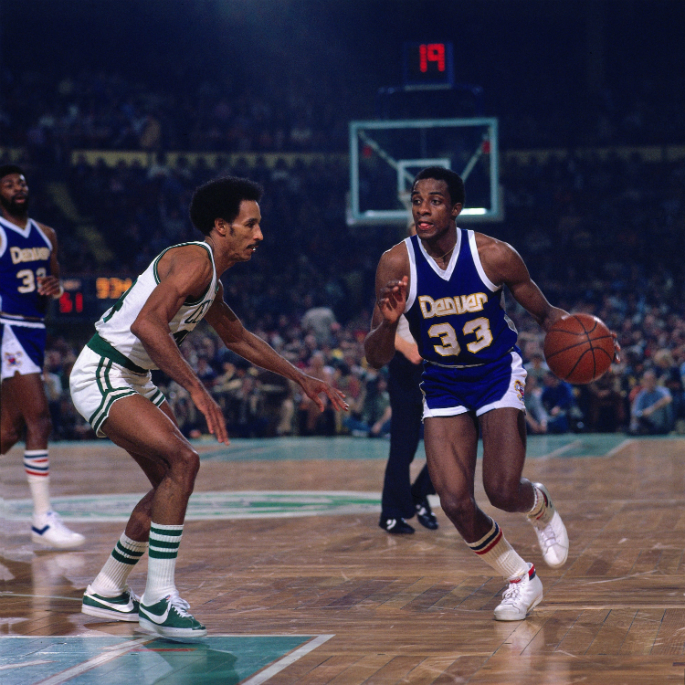 73. Dennis Johnson (Hall of Fame, 5x All-Star, 3x NBA Champion)
A three-time NBA champion and the 1979 Finals MVP, DJ was regarded as one of the best defensive guards of his era, earning All-Defensive honors nine consecutive seasons from 1978-87. He finished with career averages of 14.1 points, 5.0 assists, 3.9 rebounds and 1.3 steals.
72. Manu Ginobili (2x All-Star, 4x NBA Champion)*
The stats are nice—two-time All-Star, 2008 Sixth Man of the Year—but don't do justice to the significance of Ginobili's career. He starred for the 2004 Gold medal-winning Argentinian Olympic team that knocked off the US, and was an irreplaceable part of the four-time champion Pop/Duncan-led Spurs. Manu is a basketball legend, a player whose importance far outshines his career stats.
71. Walt Bellamy (Hall of Fame, 4x All-Star)
Bells announced his presence in the NBA with a remarkable rookie season for the Chicago Packers that included 31.6 ppg and 19.0 rpg. A 6-11 big man who could run the floor and bang inside, Bellamy was known as much for his curious behavior off the court as he was for his talent on it.
70. Vince Carter (8x All-Star)*
It was impossible, back when he led SportsCenter seemingly every night, to imagine the businesslike way that VC would extend his career to its 20th season. But nothing that's happened since can change the legacy he set in those first few seasons. When you're the greatest dunker of all time, people don't forget.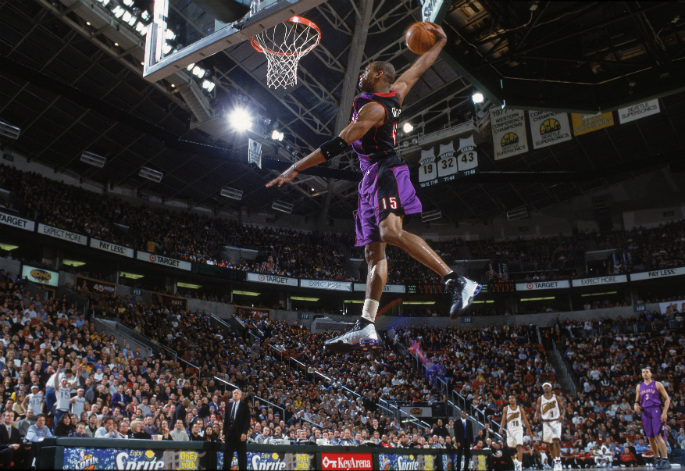 69. Dolph Schayes (Hall of Fame, 12x All-Star, 1x NBA Champion)
As the bridge between George Mikan's early dominance and Wilt Chamberlain's reinvention of the position, Schayes was a legendary center in his own right. He averaged 20 and 13 over his first dozen seasons, and when he finally retired in 1964, he was the leading scorer in league history.
68. Bob Lanier (Hall of Fame, 8x All-Star)
He came into the League a year behind Kareem, and he never did manage to emerge from the shadow of his sky-hooking rival. But Lanier's own lefty hook was nearly as unstoppable, and career averages of 20 and 10 over 14 seasons confirm that shadow or not, Dobber was a star.
67. Tony Parker (6x All-Star, 4x NBA Champion)*
A six-time All-Star and four-time champion, Tony Parker has been a staple at point guard for the Spurs for two decades, helping build the League's winningest culture. He's rarely mentioned among names like Kidd, Nash and CP3 when discussing this century's best PGs, but he's right there with 'em.
66. Bob McAdoo (Hall of Fame, 1x NBA MVP, 5x All-Star, 2x NBA Champion)
Only six players have averaged more points in an NBA season than the 34.5 McAdoo put up for the Buffalo Braves in '74-75 (which occurred over a three-year run where he averaged 32.1 and 13.8 rpg). He never matched those numbers in later stints with the Knicks, Celtics or Lakers, but old heads know.
65. Sam Jones (Hall of Fame, 5x All-Star, 10x NBA Champion)
Jones was good during the regular season, but come the playoffs, Mr. Clutch really made his mark. He helped the Celtics win 10 titles, specializing in hitting big shots. Jones teamed with KC Jones to form the League's sturdiest backcourt and was a mid-range machine who could get to the hoop against practically anyone.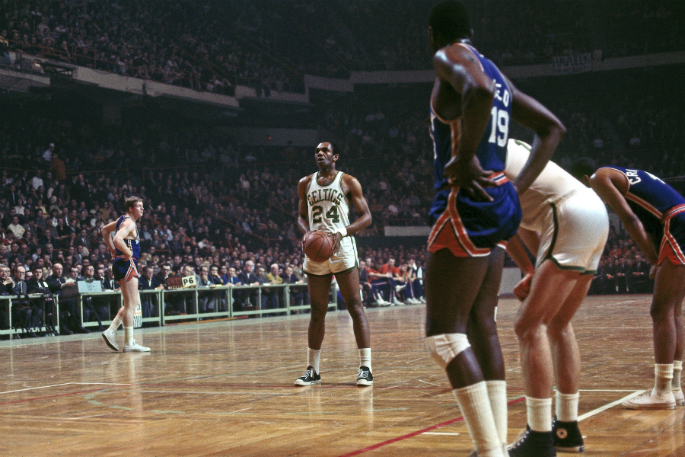 64. Nate Thurmond (Hall of Fame, 7x All-Star)
A defensive juggernaut, Thurmond thrived in the '60s and '70s, protecting the rim with his athletic and chiseled 6-11, 225-pound frame. He recorded the first-ever quadruple-double (22 points, 14 rebounds, 13 assists, 12 blocks) in 1974 and his No. 42 jersey was retired by Cleveland and Golden State.
63. Connie Hawkins (Hall of Fame, 4x All-Star)
His legacy should not be the fact that he was blackballed by the NBA and spent some of his best years playing in the ABL or goofing with the Globetrotters. His legacy should be the dominant athleticism and game-changing skill that inspired Doc, Jordan and countless others to fly.
62. Paul Pierce (10x All-Star, 1x NBA Champion)
What's so cool about Pierce's career is how he smoothly transitioned from volume scorer (26.8 ppg in '05-06, despite seemingly operating in slo-mo) to member of Boston's Big 3. It's a shift that landed him a championship ring and transformed him into a future Hall of Famer.
61. Pete Maravich (Hall of Fame, 5x All-Star)
Known for his shaggy hair, floppy socks and flick-of-the-wrist flair, Pistol Pete Maravich shattered every college basketball scoring record—including career points (3,667) and single-season average (44.5)—in just three years at LSU before becoming a five-time NBA All-Star and Naismith Hall of Famer. In 1988, Maravich tragically passed away at the age of 40 while playing pickup ball.
60. James Harden (6x All-Star)*
As a Sixth Man of the Year playing third fiddle in OKC behind Kevin Durant and Russell Westbrook, James Harden needed a change of scenery to reach his full potential. As the face of the franchise in Houston, The Beard's been an All-NBA First Team performer three times, and is the favorite to win his first MVP trophy in 2018. Yeah…he's just now entering his prime.
59. Dennis Rodman (Hall of Fame, 2x All-Star, 5x NBA Champion)
Beyond the tattoos, piercings, crazy hair colors and wild off-court antics, Rodman was a furious rebounder and defender who brought toughness and fearless physicality to championship teams in Detroit and Chicago. A little-known college player, Rodman became one of the NBA's biggest personalities and impacted games without scoring very much.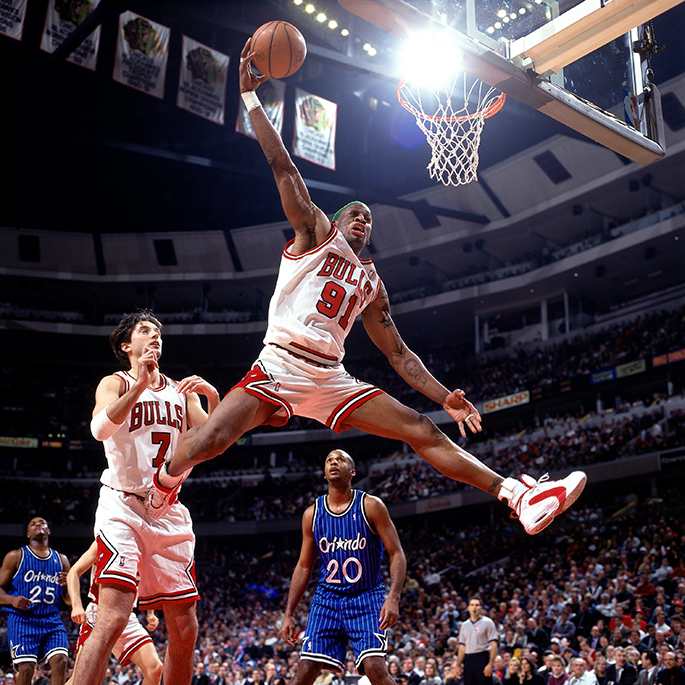 58. Ray Allen (Hall of Fame, 10x All-Star, 2x NBA Champion)
Allen is one of the greatest shooters of all time, but what made him a legend was that he was more than just a deadeye marksman. He both leads the NBA in career three-pointers and defeated Denzel Washington on-screen in a game of 1-on-1.
57. Tracy McGrady (Hall of Fame, 7x All-Star)
The 13 points in 33 seconds will never be forgotten. With his 6-8 stature, he was a mix of Kevin Durant and Paul George in the early 2000s, and it earned him a trip to the Basketball Hall of Fame in 2017.
56. Bob Pettit (Hall of Fame, 2x NBA MVP, 11x All-Star, 1x NBA Champion)
During 11 seasons with the Hawks, Pettit never failed to score fewer than 20 points or pull down 12 boards per game. A 6-9 bully who could also shoot from the outside, Pettit helped the Hawks to the 1958 NBA title, the only interlude in the Celtics' 10-year championship run.
55. Reggie Miller (Hall of Fame, 5x All-Star)
Reggie was raining three-pointers and sinking clutch shots—usually against the Knicks—long before his career as a TV analyst. The Hall of Famer and Indiana Pacers legend is No. 2 all-time in three-pointers made (2,560), and is one of only seven players to record a 50-40-90 season ('93-94).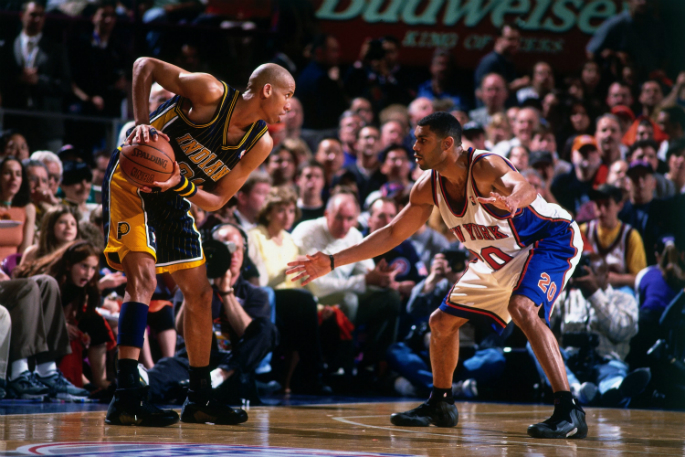 54. Robert Parish (Hall of Fame, 9x All-Star, 4x NBA Champion)
The Chief spent 21 years as a stoic force in the paint primarily for the great Celtics teams of the 1980s. He lacked flash and thunder but was a reliable post presence capable of hitting the mid-range jumper, muscling up other big men and running the floor with surprising agility. It was Larry's team, but without Parish, there would be no rings.
53. Jerry Lucas (Hall of Fame, 7x All-Star, 1x NBA Champion)
A seven-time All-Star (and two-time College Basketball Player of the Year), mostly because he was a double-double machine. Also, the only NBA player that we know of to become a best- selling author for a book detailing how to improve your memory.
52. Dave Cowens (Hall of Fame, 1x NBA MVP, 8x All-Star, 2x NBA Champion)
Imagine trying to replace Bill Russell. Undersized but undeterred, Cowens stepped up fearlessly to that impossible task, averaging 17 points and 15 boards as a rookie—numbers he'd maintain for 10 seasons in Boston—claiming MVP honors in '73, and leading the Celtics to titles in '74 and '76.
51. Bernard King (Hall of Fame, 4x All-Star)
King torched anyone who came at him during the 1984 NBA playoffs and was even better the next season before a knee injury flattened the scoring machine. He returned to score plenty but could never recapture the period when he could score at will.