You can find more of the SLAM TOP 100 list here: 
100-51 
50-11
No. 10: Larry Bird
No. 9 Tim Duncan
No. 8: Wilt Chamberlain
No. 7: Bill Russell
No. 6: Shaquille O'Neal
No. 5: Kobe Bryant
No. 3: Magic Johnson
No. 2: LeBron James
No. 1: Michael Jordan
Order your copy of the SLAM TOP 100 issue at our store. 
—
The basketball world outside of New York City knew little of Lew Alcindor in December 1966, when he prepared to make his UCLA debut against USC. There had been occasional dispatches the previous season about a 7-2 freshman who was tearing up the varsity in scrimmages, back before first-year players were allowed to play with the big team. Try to imagine some 18-year-old from Oregon State who had to face Alcindor in a freshman game. He probably went back to his dormitory afterward and wept. So when the soph center poured in 56 in his collegiate debut, a sense of hysteria overtook the Bruin program. (Plus, UCLA had already won two of the previous three national titles.) If ESPN had been around back then, it probably would have commissioned a 30 for 30 immediately.
Alcindor went on to become the greatest college player of all time, helping the Bruins to an 88-2 record over three years and a trio of national titles. He was also responsible for the NCAA's outlawing of the dunk from '67-76, a ridiculous ruling that somehow would help Stanford stop Alcindor from scoring 40 on it.

The NBA had never seen anything like him. Many fans just remember Abdul-Jabbar—he converted to Islam in 1968 and started using his Arabic name in '71—as the guy who later in his career would set up on the block and dribble and shift until he could launch his deadly sky hook. But when he hit the League in 1969, he was an extraordinary basketball specimen, a big man with uncommon speed, athletic ability and skill. He played with supreme confidence, even as a rookie, and demonstrated early that he not only understood the game from a big man's perspective but also from a larger global view.
Milwaukee won just 27 games in its first NBA season, earning it the right to draft Abdul-Jabbar. Two seasons later, KAJ led the team to the world championship. That year, he won the first of his six MVP awards and led the League with 34.8 ppg while pulling down 16.6 rebounds a night. He was an unstoppable presence who used his size to dominate from above those smaller and his speed and quickness to embarrass the big fellas. Today's NBA fans marvel at players like Giannis Antetokounmpo; well, they should watch some footage of a young Abdul-Jabbar to see similar skill and athletic grace nearly 50 years ago.
Unhappy with the city of Milwaukee and missing his friends and family on the West Coast, Abdul-Jabbar told Bucks management in 1974 that he wanted to be traded. His final season in Wisconsin featured a losing record—Abdul-Jabbar missed 16 games due to a broken hand—and the Bucks' trading him to L.A. is generally looked at as one of the worst trades ever, when, in reality, the Bucks ended up with two players—Brian Winters and Junior Bridgeman—whose numbers were retired by the team. And they had to do it. The Lakers welcomed Abdul-Jabbar, but his first few years in L.A. weren't idyllic, even though he won the MVP award during his first with the team. Sure, he scored a lot of points, but Abdul-Jabbar was, at times, accused of loafing and not caring. His proud, introspective personality was misread as aloof. While Portland and Seattle rose in the West, the Lakers struggled.
Then came Magic Johnson, and everything changed. Abdul-Jabbar was the MVP again in 1979-80, reborn thanks to the enthusiasm and charisma of his rookie teammate. The Lakers would win five titles between 1980-88, and even as Abdul-Jabbar's totals sagged, his influence on the team and ability to provide a low-post anchor were huge reasons for the team's success.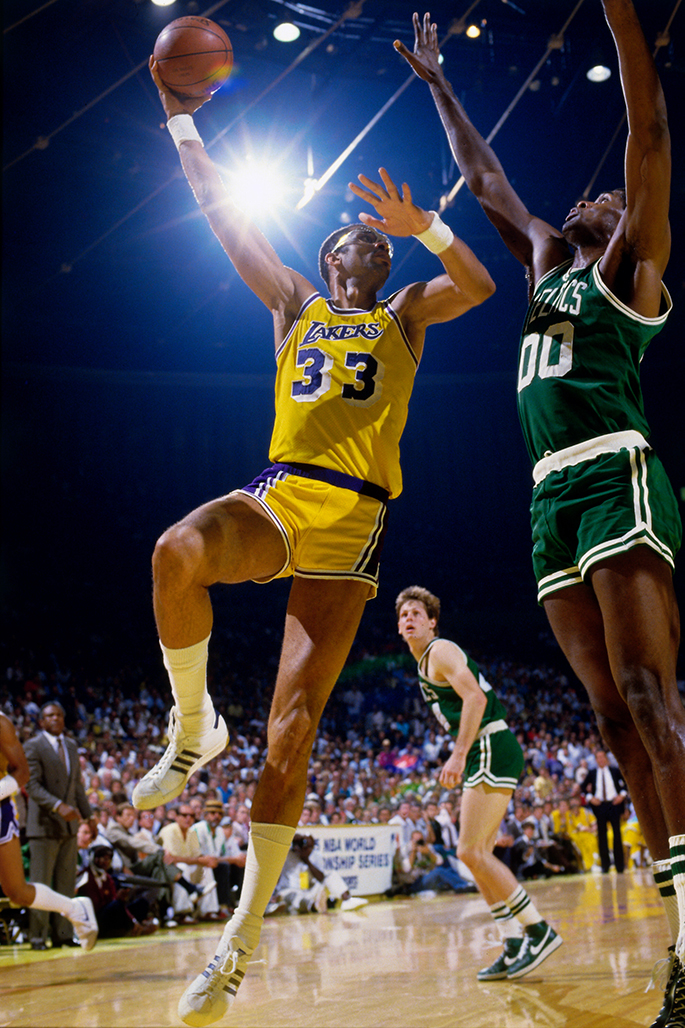 In the 1985 Finals against the Celtics, L.A. lost Game 1, 148-114, in what came to be known as "The Memorial Day Massacre." Three days later, the Lakers rebounded with a 109-102 victory fueled by Abdul-Jabbar's 30 points, 17 rebounds, 8 assists and 3 blocks. Los Angeles won in six games, and Abdul-Jabbar was the Finals MVP.
Sure, his last couple of years weren't overwhelming. But when he bid farewell to the NBA after 20 seasons, 19 All-Star Game appearances and more points than anybody who ever played pro ball—before or since—no one even remembered how many points or boards Abdul-Jabbar averaged at the end. They merely marveled at a player whose career was an overwhelming argument for his groundbreaking talent and remarkable endurance.
When the whispers started back in the mid-1960s, nobody really knew what was coming. Nearly 25 years later, we had all seen. And we were amazed.