You can find more of the SLAM TOP 100 list here: 
100-51 
50-11
No. 9 Tim Duncan
No. 8: Wilt Chamberlain
No. 7: Bill Russell
No. 6: Shaquille O'Neal
No. 5: Kobe Bryant
No. 4: Kareem Abdul-Jabbar
No. 3: Magic Johnson
No. 2: LeBron James
No. 1: Michael Jordan
Order your copy of the SLAM TOP 100 issue at our store. 
—
The résumé is, obviously, exceptional, and certainly worth highlighting. Larry Bird was a 12-time All-Star, a three-time NBA champion, a three-time MVP and also a two-time member of the exclusive 50-40-90 club.
His rise began with his on-court rivalry with Magic Johnson, which started back when the two were in college at Indiana State and Michigan State, respectively, and carried into the NBA, which carried the League back into living rooms across the country. Jordan might have transformed the League into the behemoth that it is today, but he wouldn't have had the freedom to do so had Bird and Magic not saved it first. Bird's feathery jumper remains one of the smoothest strokes in the history of the game. The cliché eyes in the back of his head might as well have been invented just to describe his unbelievable passing and court vision.
But it's the stories behind these triumphs that make Bird so special, that give meaning to the moniker of Larry Legend. There are too many to fit here so instead let's just review a few.
In February 1986, moments before the NBA's first ever Three-Point Shootout, Bird, who was competing in the event, entered the locker room to size up his competition and also to share a message with his opponents. Actually, he had a question: "Who's finishing in second?" he asked. He won the competition that year, and the next two as well. For the third one, in 1988, he did so without taking off his warmup shirt.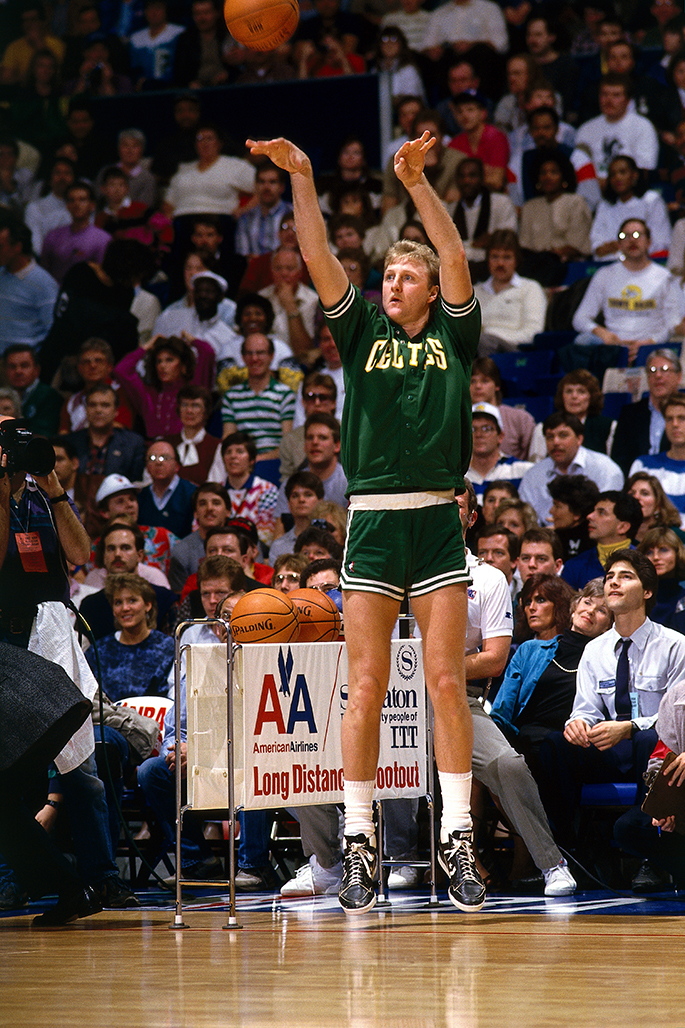 Just days after the '86 contest, prior to a matchup against the Blazers, Bird—according to then-Celtic Bill Walton—told teammates that he planned on playing the next game left handed. He didn't completely live up to his word; he only scored 20 of his 47 points with his off-hand.
Talking trash might have been Bird's greatest skill. Take, for example, the time he told Sonics forward Xavier McDaniel that he was going to hit a game-winning shot over him. Bird caught the ball about 10 seconds later and drilled a jumper from the right elbow—the spot he'd pointed out—over McDaniel's outstretched arms. He also had a habit of asking opponents on the road what the scoring records were in their respective arenas so that he'd know how many points to score that night. Oh, and let's not forget the game against the Sixers where Bird politely reminded Julius Erving that he was outscoring him 42-6 and politely suggested that Dr. J consider retiring.
The two wound up throwing punches and getting ejected.
That's who Bird was—the rare player who could talk with the best of them and then back everything up. Is he the greatest player of all time? No. But that doesn't mean he can't be the most legendary. We will simply never see someone like Larry Bird ever again.
Photos via Getty Images.